Welcome back....Im currently writing this in France, having just come back from the most amazing life changing retreat in Somerset. I can proudly say that I have finally got back my much needed MOJO that I was searching for and I am back with a passion and force!
I am not sure where to start regarding France! Having a French mother, I am accustom to some of the culture, people and food, but this place has simply inspired me! It is 10 mins from the beach and I drove my own car alone several long hours to get here. Its been a journey like I have never experienced before and its definitely helping my art develop. Ive become my own best friend and its just as well with 7 hours driving and 9 hours on the ferry! The Markets here are so wonderful as everything is fresh and the best thing is nobody can talk much English so I am brushing up on my French whether I like it or not! It has been sunny everyday I have been here and the countryside is breath taking. You hear about France being amazing, but for the first time in a long time I feel like I am home. Dont get me wrong, I have had some really bad days, but its counteracted by the beauty of this place and just being alive, breathing it all in in the moment. I can be totally me here and nobody thinks its weird! ;)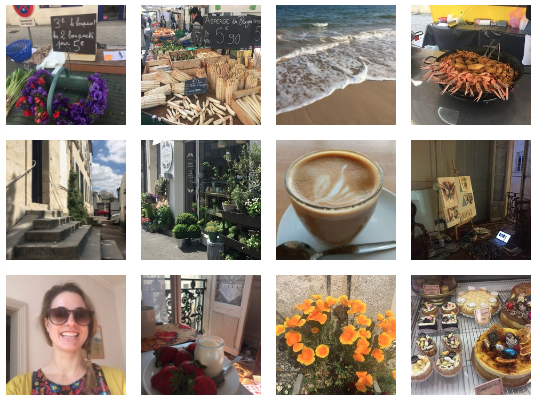 IDEAS, MEDIUMS, RECOMMENDATIONS: Apart from loving France...I have been painting ALOT and I am loving these water soluble oil paints from Winsor & Newton CLICK HERE TO BUY. They are amazing as they not only dry faster, but I can almost use them like water colour and they are great for using lightly on thick sketch paper if you feel the need to develop, practise and make loads of studies like a frenzied psychotic possessed individual like me...;) Some people think only Oil is the way forward, but I just think do what works for you as these are still Oil paints in its raw basic makeup. Let me know if they work for you!
PROGRESS OF MY OWN ARTWORK: I have been yearning to paint a certain subject which I am not going to unveil in its entirety until I have completed the whole LARGE CANVAS series that I am working on, but I think the sketches give you a good idea of what, in part, I am going for...I have been loving using my sketch book to try things out and having the time and freedom is such a luxury as it is not something I have had before. I am REALLY digging deep and creating my raw passion and soul into my work and it feels so good. Very scary, full of artist doubts, but I know it has to be done as I cant stop thinking about painting it until it has been created onto canvas!
CURRENT INSPIRING EXHIBITIONS TO SEE: Artists' Film International, White Chapel Gallery, London, Open until May 28th - CLICK HERE / Norman Hyams: Ethos, Hannah Gallery, Peckham, Closes April 29th so get there quick! - CLICK HERE
MY ARTWORK FOR SALE: Curious Duke Gallery, London - CLICK HERE
INTERESTING QUOTE OF THE MONTH: "Travel is more than the seeing of sights; it is a change that goes on, deep and permanent, in the ideas of living." – Miriam Beard
I look forward to updating you with my trip to Boston!
Sending you all a big hug, Emmylou xxx